Retreads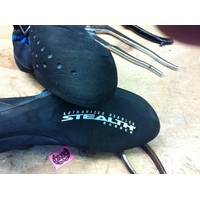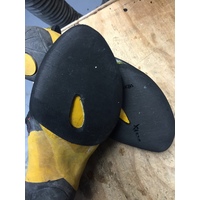 Big John Retreads:
Our current turnaround time for repairs are: Rand and Retread 6 weeks (per pair) Retread Only 4 Weeks (per pair)
Please let us know if you need your shoes back by a certain date and we will do our best to work to your request.
Australia's only fulltime specialist rock climbing shoe resole service since 1986.
Resole bond guaranteed by pneumatic pressing equipment and the same adhesives used by climbing footwear manufacturers.

Rock shoe size and shape preserved by manufacturers lasts used especially for rock climbing boots.

Service used and recommended by top rock climbers, rock climbing shoe distributors, retailers and climbing gyms nationwide.

Nationwide distribution of agents for receiving injured rockshoes.

Available rubbers for resoling include: FIVE TEN Stealth C4, Onyxx, and HF, VIBRAM Grip, XS Grip and XS Edge and Mad Rubber.
Sending in your climbing shoes for repair
Book and pay online for faster service - follow this link
HERE
Dropping rockshoes off at an agent:
A convenient way to get your rockshoes to BJR is to drop them into us at Blackheath or at your local climbing gym or climbing shop agents for Big John's Retreads:
If the agent is located in the Sydney Metropolitan area, BJR picks them up Friday and drops them back to the agent the following Friday (payment is made through the agent and there is no freight charge).
Outside the Sydney Metropolitan area (including interstate) the agent sends them to BJR, the shoes are repaired and sent back to the agent for pick up by you (payment is made through the agent and to include a freight charge of $13).
Dropping shoes off at an agent offers convenience
Sending rock shoes direct - mail order:
You can send your rockshoes directly to BJR.

Payment: Please supply credit card details - VISA or MC, include card number, exp date and full name on card. Contact us on 02 4700 9122 for alternative payment options.
Book and pay online for faster service - follow this link

HERE

Order Form: print out the order form

, fill it in and send it with the shoes. We will conact you for payment once we receive your shoes.
Pricing
Normal Retread (half sole)

Old half sole removed.
New sole pneumatically bonded. Five Ten Stealth

C4 3.5mm

C4 4.2mm

C4 5.5mm

Onyxx 3.8mm

Onyxx 4.2mm

HF 4.2mm

Vibram Grip DC Vibram XS Grip Vibram XS Edge Mad Rubber $55/pr

Rand Repair(toe caps)

Only done in conjunction with half sole replacement.


Part of old rand removed.
Includes minor stitching repairs in area associated with rubber repair.
Amount of rubber replaced at BJR discretion. $35/pr plus cost of normal retread choice.

Big Rubber Retread

Big rubber retread which lasts 50% longer:
Uses a rand rubber in conjunction with a half sole replacement.
Rand rubber is 50% thicker than original rubber.
Climber still has choice of sole rubber type and thickness.
Looks and feels very similar to a normal repair.
Is ideal for gym and hard wearing adventure climbing. $35/pr plus cost of normal rubber choice.

Pro Grind

Pro Grind $5.50/pr

Other Repairs

Other repairs (full rockshoe repair service including stitching, full soles replacement, full rand replacement, customisation, etc) by Quote
Shipping:
Mail Order return Express post only from BJR:
1 to 2 pairs $14

3 pairs or more $20
Normal Post and courier calculated on a weight and postcode basis, plesae contact BJR for quote.
Agent only - two way
1 pair $13

2 Pair $15

3 pairs $20
Return shipping with BJR Climbing Equipment gear purchase.
Quailify for free return shipping - for direct mailorder climbers, spend $50 on gear with your retread and return shipping can be free. Contact BJR for detailed terms and conditions.
NZ Shipping
We offer NZ resoles. Shipped with Pack and Track international, weights & prices below, please allow up to 4 weeks for turn around:
1kg = $24.15
1.5kg = $31.12
Pricing & Quotes:
Pricing is subject to change.
Agents will be notified in writing of any price changes before implementation.
Single shoe basic repairs (rand repair and normal repair) are half of the full pair price but freight charges remain the same (ie, as for a pair of shoes).
For any of the described standard repairs, BJR will not quote for amounts less than $70.
All possible rubber and fabric repairs on rockshoes are available. Just contact Big John.
Payment
Dropping shoes off at an agent?
Payment is made through the agent.
Sending shoes direct - mail order
Shoes must be accompanied by Visa or MC details. Please supply card number, expiry and verfication number. Call us on (02) 4787 6550 for alternative payment options.
Our postal address (preferred for mail orders) Big John's Retreads PO BOX 114 Blackheath NSW 2785
Our Street address (for couriers) BJR - UNIT 6 134 Station street Blackheath NSW 2785
Order Form
Print out the
order form
,
fill it in and send it with the shoes OR
Book and pay online for faster service - follow this link
HERE
Warranties
If the repair materials used, or the work performed is faulty, BJR will fix it.
If the claim is not valid the customer may have to pay freight and repair charge.
General delaminations are covered in the repair charge.
But on occasion they can be missed in the repair process. BJR takes no responsibility for these oversights unless they are directly related to the rubber replacement or are pointed out in the repair notes to BJR.
BJR'S Rockshoe Care Guide
Have your rockshoes last longer and perform better. Like all other specialist athletic shoes, climbing shoes are becoming more performance focused. In this shoe evolution, hardiness is sacrificed to accommodate the necessary features. Signatures of performance to the modern climber are: lightweight, sensitivity and flexibility. To make optimum use of these performance characteristics and prolong the wear of your rockshoes, BJR recommends:
Cleaning:
Dust or dry off feet before wearing.

Dry wet shoes out of direct sunlight.

Bicarbonate soda is the only deodoriser you should use.

Never use conventional foot powders as some break down the sole bonding glue.

Do not use oils such as tea tree to fragrant the shoes, as they moisten and accelerate the decay of the upper.

Only wash shoes twice in their lifetime.

Use a fabric softener to retain original feeling of upper when washing,

Clean mud, dirt and dust off your shoe's rubber for increased adhesion.

Top climbers often spit clean the soles and rands before climbing (when they squeak they are ready).
When Not In Use:
Avoid leaving shoes in hot places, as heat weakens the bonding glue.

Store in a well ventilated area and never leave to fester in your crag pack.
Wearing:
Only wear whilst climbing (there are obviously exceptions, eg maybe on multi-pitch routes).

When you wear your shoes in any situation other than climbing, you are subjecting them to wear and tear they are not designed for.

High performance shoes do work better, they also wear out faster.
Fitting:
Rockshoes should fit snugly.

Laces are merely there to take up the slack, and should only be taken in to achieve a firm fit.

If you like a tight fit then buy tight fitting shoes, I am sure the rock jock at your local store will happily accommodate your masochistic tendencies.

The rand and sole of poor fitting shoes never last as well as good fitting shoes.

Avoid lending your shoes to others as the differing foot shape can deform your fit permanently.

The best rockshoe should be the shoe that best fits your foot.
FAQ
Why does the big rubber retread last longer?
The big rubber retread (toe cap and half sole replacement) last 50% longer because, it uses a rand rubber which is 50% thicker than the original rand rubber or that used in the standard rand repair.
With new shoes or the standard rand repair, the rands can 'blow out' prematurely - ie before the sole has worn. Thus the climber does not get full use from the sole before needing a rand repair (which requires half sole replacement in conjunction with the toe cap). By delaying the rand 'blow out' the climber gets more work out of the sole.
I have worn a hole through the toe rubber to the fabric. Is this when I should get my rockshoes repaired?
Yes, always have your shoes repaired before you wear into the shoes' fabric upper. In fact, for better results you should have had them repaired a long time ago.
So when should I get my rockshoes repaired?
Before you start to wear into the rand rubber (the shoe's rubber side wall), take a good look at the sole rubber under the big toe, this is where it should be worn most. If you have a few days of wear left you probably should have them repaired NOW. One rule of thumb is to resole when the the sole is 80% worn out.
But they have just started to perform, why should I get them repaired now?
If you keep wearing your shoes, in a few days they will be trashed. Have them repaired NOW for a better than new result. WHY?
Because the fit is already established, the new rubber improves this fit and provides a new edge with better friction and longer wear.
How many times can a pair of rockshoes be resoled?
They can be repaired at least 3 or 4 times if you stick with the above advice, keep your feet clean, wear the shoes as little as
possible when not actually climbing, and store the shoes in a well ventilated place.